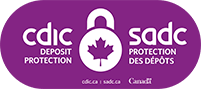 The Canada Deposit Insurance Corporation (CDIC) is a federal Crown corporation created by the Parliament of Canada in 1967 to protect your deposits made with member financial institutions in case of their failure.
Community Trust Company is a member of CDIC.
Community Trust Company is also known under the following tradenames:
Community Trust
Société Fiduciaire Communauté
The following instruments and/or products of Community Trust Company are eligible for deposit insurance from CDIC, subject always to maximum coverage limitations as outlined on the CDIC website.
Savings Accounts
Maximizer Savings Account
Non-Registered GICs
Short-term Non-Registered GICs
Cashable Non-Registered GICs
Long-term Non-Registered GICs
Registered Accounts
Registered Retirement Savings Plan (RRSP)
Short-term registered GIC
Long-term registered GIC
Cashable registered GIC
Registered Retirement Income Fund (RRIF)
Short-term registered GIC
Long-term registered GIC
Cashable registered GIC
Tax-Free Savings Account (TFSA)
Short-term registered GIC
Long-term registered GIC
Cashable registered GIC
Registered Disability Savings Plan (RDSP)
Short-term registered GIC
Long-term registered GIC
Cashable registered GIC
Locked-in Retirement Savings Account (LRSP)
Short-term registered GIC
Long-term registered GIC
Cashable registered GIC
Life Income Fund (LIF)
Short-term registered GIC
Long-term registered GIC
Cashable registered GIC
Locked-in Retirement Account (LIRA)
Short-term registered GIC
Long-term registered GIC
Cashable registered GIC